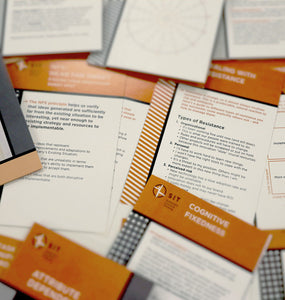 SIT Cards© Creative Problem Solving Kit
SIT's Innovation Cards offer the full suite of SIT innovation tools in a beautifully designed, user-friendly format. Perfect for use in meetings or workshops, SIT Innovation Cards are a great way to trigger new thinking for a range of business, technical and marketing problems. Share with colleagues to create innovation buzz or keep handy for some daily innovation inspiration! 
SIT's Innovation Cards provide a comprehensive guide to SIT's essential fixedness breaking methodology – in a compact format.  Featuring: 5 Innovation Tools, Principles, Facilitation Tools and Problem-Solving Cards – they're a great tool for stimulating a structured approach to innovation! Use as new idea triggers in meetings, create innovation buzz by sharing with colleagues or keep on desks as a reminder to think differently - every day!  
Creative Problem Solving Kit (includes 5 cards)
Explore the boundaries of your problem and learn the tools to deal with it in a creative way.